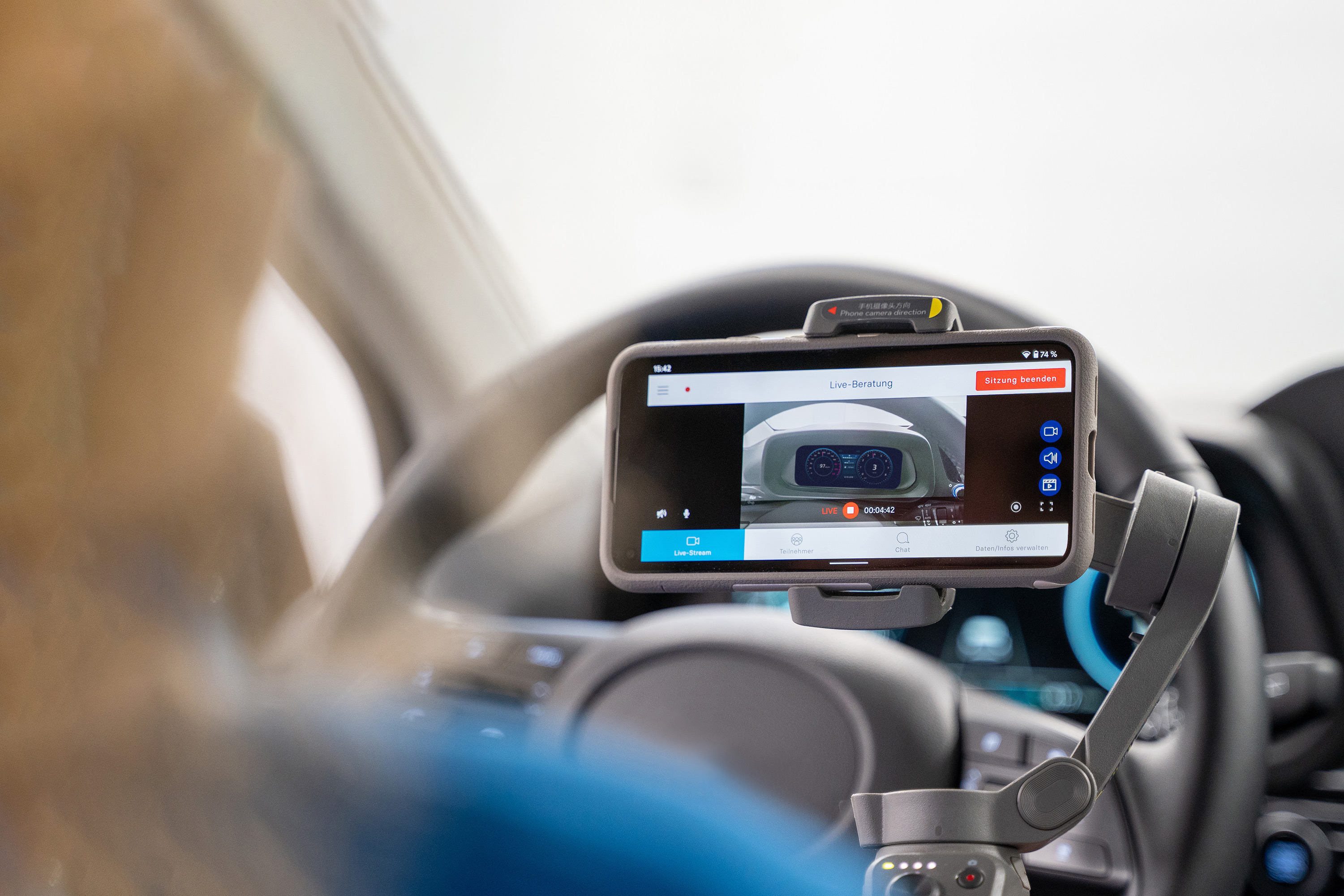 What it is
Livid is the first online presentation software that was developed with the needs of automotive retailers in mind.
10 years of experience in live video solutions for leading manufacturers and importers was the solid foundation for our ground breaking software design and usability.
We enable real people to present real cars in real time on your website using state of the art video and audio streaming.
And since it is dead easy to use our system, your sales guys can focus on what they do best: Listening and talking to customers to find the best product for their needs.
True to the principle: "Don't let technology get between your brand and your customer".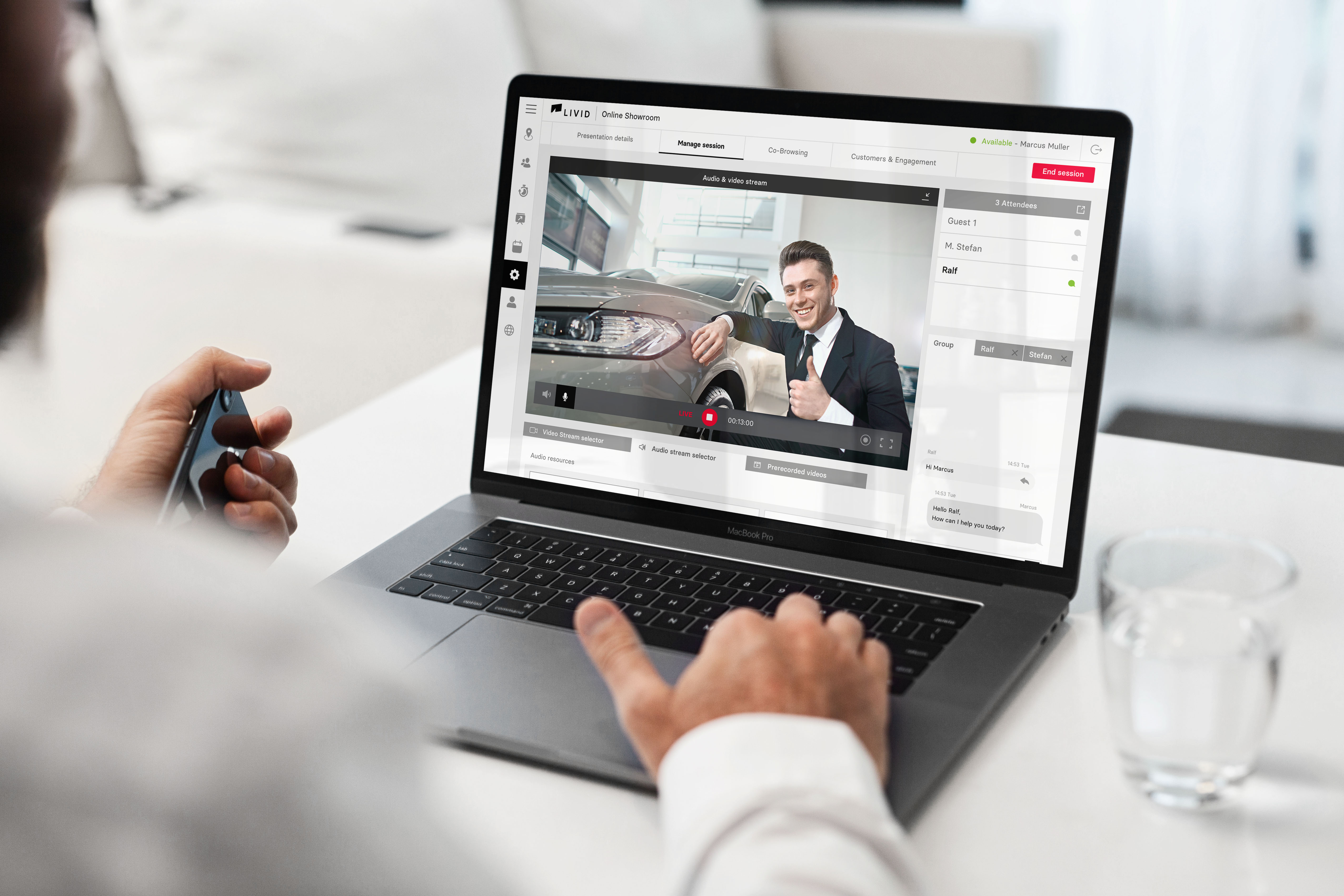 How it works
Customers request a sales presentation on your website.
With just one click they are put through to your sales advisor. In a live video session you can show every detail of a car. New or used. Inside and outside. And answer all sorts of questions from your customers.
Not enough dedicated staff to serve the digital "walk ins"?
No problem. Activate the LIVID "book an appointment" functionality. Customers pick their preferred model, date and time depending on the availablilty of your sales staff. Both customer and sales representative will get notified. The session starts with just a click on a link.
You want to present to a larger audience?
Just set up a live streaming session and promote it on your website. It takes literally seconds to set it up. And you will be presenting to up to 1.000 viewers at a time.
Looking for a special treat for special customers?
Make your streaming session "by invitation only". Upload email addresses of your business partners, fleet customers, the local press, your VIPs or use our API top connect to your CRM or DMS. A private link is generated and sent out exclusively to your selected audience.
Sleepless at night?
Our service can be extended using conversational chatbots. Sometimes you have to check twice whether you are talking to a human or a machine. You don't like that? The LIVID Platform is modular. You only subscribe to the features you want.
No product, no presentation?
Now that is old school! We can virtualize your products based on your vector data or just use 3D-scanners. So you can actually start presales months before the real stuff is available in the showrooms.
Our developers are already working on bringing AR and VR devices into the LIVID platform but let's walk before we run.
Gee, there is so much more to talk about…
Why only automotive
Good news. LIVID works for every product and service you want to present via live video stream. Motorbikes, eBikes, coffee machines, furniture, medical and optical devices etc. Even a good bottle of wine can be presented deliciously. The opportunities are boundless.
Having petrol in our venes it just seemed obvious to start with automotive.
What you need
This is the best part: The software is in the cloud. No download, no installation, no updates, no nothing!
All you need is a browser on a laptop or tablet. You can even run LIVID on your smartphone. A decent internet line would be good. But nothing spectacular. A WIFI or 4G signal in the showroom or forecourt. A camera on a tripod or screwed to the wall or hanging from the ceiling or just a mobile phone stuck on a gimbal. We even work with head cams built into glasses so you can move between, inside and under the cars if you want to.
Depending on your specific use case we integrate as many cameras as you need to because LIVID is as scaleable as you want it.
Everything else is done by our software. But what about the customers? All they need is a state of the art browser on a PC, tablet or smartphone.
That's all. So you can stop zooming around. LIVID has got it all.
Getting Started






We can get you up and running in under 4 weeks. Promise!
Request a call back